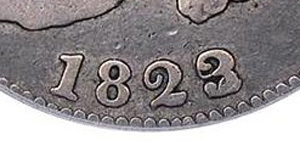 The 1823/2 Capped Bust Quarter is easily the rarest variety of the series and considered one of the great rarities of early U.S. coinage.
Despite the reported mintage of 17,800 pieces, very few examples of this overdate have survived. Only 31 examples were accounted for in a recent pedigree roster, mostly in well circulated grades, with a few heavily abraded uncirculated specimens and a single Proof.
Examples of the 1823 "3 over 2" Capped Bust Quarter are highly valued at all grade levels and appear at auction infrequently. Prices realized for this rarity over the past few years range from $25,300 for an example that had been plugged and whizzed to $74,750 for an exampled graded NGC VF 30.