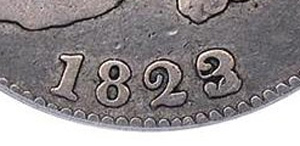 The 1823/2 Capped Bust Quarter (Buy on eBay) represents a rarity within early United States coinage, although it remains widely underappreciated. All coins struck for the issue are overdated with the digit "2" plainly visible beneath the final digit "3" in the date. A pedigree roster of only 31 examples has been documented, with no more than 35 total examples believed to exist.
The issue has a reported mintage of 17,800 pieces, but researchers now believe that this figure indicates the total number of quarters delivered during the year, including other dates. It is possible that the first delivery of 1,800 pieces contained 1823/2 quarters, while the second and final delivery of 16,000 pieces contained 1824-dated quarters.
Regardless of the actual mintage, the 1823/2 Capped Bust Quarters circulated extensively leaving most surviving examples well-worn or damaged. A few heavily abraded uncirculated specimens have managed to survive, along with a single proof specimen. In 2014, one of the uncirculated pieces graded NGC MS-61 with CAC verification realized a price of $188,000. The same year, the single proof specimen graded PCGS PR64 with CAC verification realized $396,562.50.