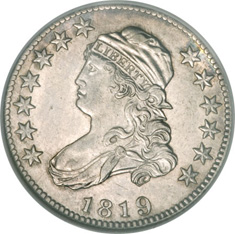 The mintages of Capped Bust Quarters between the years 1815 and 1838 were generally higher than the earlier quarter dollars, but still remained relatively limited. The series includes several gaps in production where coins were not produced for one or more years. Low mintages occurred for several years of the series, creating a few significant rarities.
The lowest reported mintage for the series occurs for the 1827 Capped Bust Quarter with 4,000 pieces reported to have been struck. However, no circulation strike coins for this date have ever been located. A limited number of original proofs and a larger number of restrikes for this date are highly prized by collectors.
There was an increase in the annual output of quarter dollars after new machinery was acquired by the Mint and a modified design was introduced. The highest mintage of 1,952,000 occurred during this time period. Coins from the second subtype also tend to be better produced and more available for collectors.
Capped Bust Quarter (Large Diameter) Mintages
| Issue | Mintage |
| --- | --- |
| 1815 | 89,235 |
| 1818 | 361,174 |
| 1819 | 144,000 |
| 1820 | 127,444 |
| 1821 | 216,851 |
| 1822 | 64,080 |
| 1823 | 17,800 |
| 1824 | 168,000 |
| 1825 | included in 1824 |
| 1827 | 4,000 |
| 1828 | 102,000 |
Capped Bust Quarter (Reduced Diameter) Mintages
| Issue | Mintage |
| --- | --- |
| 1831 | 398,000 |
| 1832 | 320,000 |
| 1833 | 156,000 |
| 1834 | 286,000 |
| 1835 | 1,952,000 |
| 1836 | 472,000 |
| 1837 | 252,400 |
| 1838 | 366,000 |